Keep Spiritually Connected
In this time of virus and the chaos associated with it, we are overwhelmed with news, politics, isolation, inconvenience, misinformation, gloom and doom.
It is amazing, that drive up coffee and fast food is considered essential, while churches have been closed.  Does that render Jesus and our faith in the trinity, non-essential? Often the news and recommendations are contradictory. Sometimes the contradictions occur with the next breath or sentence.
Secularism has taken a stronghold over the spiritual world.  There is burgeoning social and secular religiosity around the topics of distancing and stay at home mandates. While science is important in directing the management of this crisis, we as Christians must not lose sight of who is really in control. God is in the science!
Be encouraged that Christ is the true healer.  While this virus receives front page news that it is ravaging life, as we knew it, God is healing the earth without notoriety or fanfare.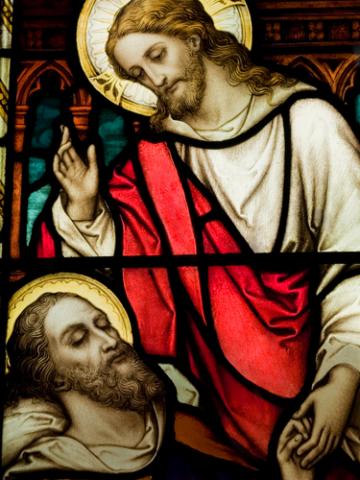 It is important that we seek His miracles.  For instance, there has been measurable reduction in carbon emissions with confinement.  What will we learn from this?  Neighbors are reaching out and helping others!  Individuals are digging deep to create, donate, and feed, as we've been scripturally directed to do. While some may turn to reporting their neighbors for too many trips out of the neighborhood, many are striving to stay present with friends, family, parishioners and community members.
St. Barnabas is keeping the Blessing Box filled with food. When the blessing box was started almost a year ago, who would have thought Shoreline would need it?  It surprised us that it needed to be filled once or twice a week in the beginning.  Now?  It is needing replenishment daily.  It is not uncommon to find the contents empty, even a day after the box is filled to the brim.
St. Barnabas has been providing open air services, including communion, on a drive by or drive through basis.  Every precaution is taken to prevent contamination.  There is no congregating, and the recommended social distancing is maintained.   God is present and has revealed the importance of maintaining community.  People are suffering from loneliness and people need the Lord!
Beloved, as Christians we need to be very cognizant and vocal about the miracles God is doing.  We need to remain vocal and visible in the relevance of His gospel.  The Trinity, His church (the people) and St. Barnabas are essential!
Holy week is upon us.  While services will not be in the traditional form, we will be making a strong, open air display for all the community to see and participate in.  While maintaining social distancing requirements, we invite you to drive by and witness our outreach.  The Holy Week Schedule, follows.
Be blessed, be vocal, be essential in keeping His church alive!  Be evangelists!  And above all, to God be the glory!